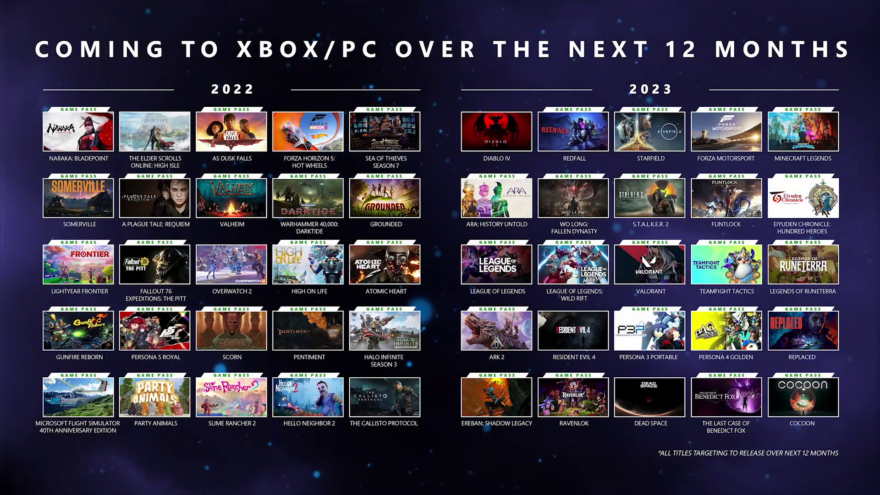 The Xbox and Bethesda showcase was certainly an interesting one, giving us a good glimpse at what games are soon to hit both PC and Xbox, some direct sales, some via Gamepass. What's for certain, is that we've got a lot to look forward to. The event felt a little lacking, but that was by design. There were no lofty teasers or previews of games that are still years away. I'm looking at you Elder Scrolls VI and even more so at the new Fable game. There wasn't a focus on CGI-heavy rendered trailers and cinematics either, things were much more realistically put back to focusing on gameplay, and honestly, that was so much better in my opinion.
Microsoft did promise us more though, with the Xbox Games Showcase Extended, and good news, it's about to start, if it hasn't already because you were slow to click. Alas, this is the internet, so you can start whenever you're ready, and the video embed is below!
You can expect even more trailers for upcoming titles, with in-depth looks at some titles too. Furthermore, there will be interviews with some top game creators too, if you're into that sort of thing. However, I suspect that with Microsoft telling us the last stream was about games "coming out in the next 12 months" the extended showcase may feature some deeper cuts from what's currently in development and a bit further away from release… who knows!
Here's what we saw so far, thanks Polygon for the list:
2022
Naraka: Bladepoint
The Elder Scrolls Online: High Isle
As Dusk Falls
Forza Horizon 5: Hot Wheels
Sea of Thieves Season 7
Somerville
A Plague Tale: Requiem
Valheim
Warhammer 40,000: Darktide
Grounded
Lightyear Frontier
Fallout 76 Expeditions: The Pitt
Overwatch 2
High On Life
Atomic Heart
Gunfire Reborn
Persona 5 Royal
Scorn
Pentiment
Halo Infinite Season 3
Microsoft Flight Simulator 40th Anniversary Edition
Party Animals
Slime Rancher 2
Hello Neighbor 2
The Callisto Protocol
2023
Diablo 4
Redfall
Starfield
Forza Motorsport
Minecraft Legends
Ara: History Untold
Wo Long Fallen Dynasty
S.T.A.L.K.E.R. 2
Flintlock: Siege of Dawn
Eiyuden Chronicle: Hundred Heroes
League of Legends
League of Legends: Wild Rift
Valorant
Teamfight Tactics
Legends of Runeterra
Ark 2
Resident Evil 4
Persona 3 Portable
Persona 4 Golden
Replaced
Ereban: Shadow Legacy
Ravenlok
Dead Space
The Last Case of Benedict Fox
Cocoon
So, what games do you think we'll see at the show, and if you've already watched it, what games did you enjoy the most? Let me know in the comments section below.
Xbox Games Showcase Extended
"Are you ready for the Xbox Games Showcase Extended? Because, ready or not, it's right here. Catch some new trailers, deep looks at the news from the Xbox & Bethesda Games Showcase, and interviews with some top game creators." – Xbox