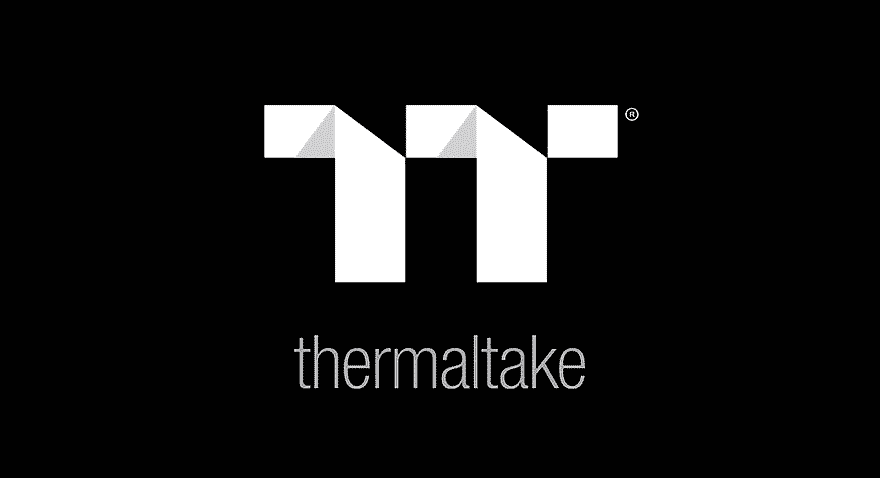 Thermaltake has announced the launch of its brand new The Tower 500 Mid-Tower Chassis, the first mid-tower form factor model in The Tower series. The Tower 500 is a vertically designed case with three 4mm tempered glass panels for panoramic viewing, which comes in two editions, black and snow. Not only does The Tower 500 have a modern appearance, but it also supports incredible hardware expansion and an advanced cooling configuration for comprehensive flexibility.
Thermaltake – The Tower 500
The Tower 500 has great hardware expandability which is capable of fitting up to an E-ATX motherboard (12"x12"), and up to eight 3.5" HDDs or four 3.5" HDDs plus eight 2.5" SSDs. Built for excellent cooling performance, The Tower 500 comes with two preinstalled 120mm standard rear fans to prevent overheating of the CPU and GPU. What's more, thanks to its spacious interior, there is a wide range of selection versatile cooling solutions. In total, up to eleven 120mm fans can be fitted in the case to aid in airflow.
For All-In-One cooling, users can choose to install a 360mm All-In-One cooler on the right side by using the radiator bracket, and by flipping the right-side panel 180 degrees to allow direct heat extraction from the mesh to achieve an optimal cooling result. For DIY cooling, a custom LCS radiator up to 399mm will also fit with the right side radiator bracket; what's more, there is a fan bracket attached to the bottom of the chassis, which not only can be installed vertically or horizontally but can also install two 120mm fans or an extra radiator to make the LCS set up even more eye-catching.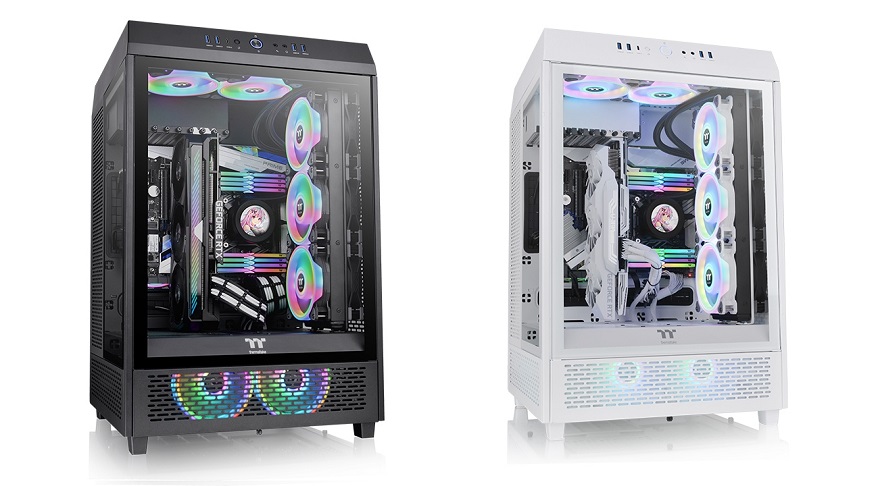 Upgrade Your PC's Visual Effects with the 3.9" LCD Panel Kit
To take your PC's visual effects to the next level, users can also choose to attach an optional LCD upgrade kit at the front bottom side of The Tower 500. With Thermaltake's TT RGB Plus software, the 3.9" LCD screen provides users with a plethora of customizable options such as monitoring real-time system information or even switching to "weather mode", which will match the weather from the user's set an IP address to display their current regional weather. Users may also upload their favourite images or GIFs to add some extra flair and to make their PC feel truly unique.
"Build on Our Legacy" – Expanding on the classic series of The Tower, Thermaltake combined the best features of the 900 and 100 to bring you an additional selection in between. If you are fascinated by the unique vertical design of The Tower Series or if you are looking for an eye-catcher to show off your amazing PC build, The Tower 500 is the perfect fit!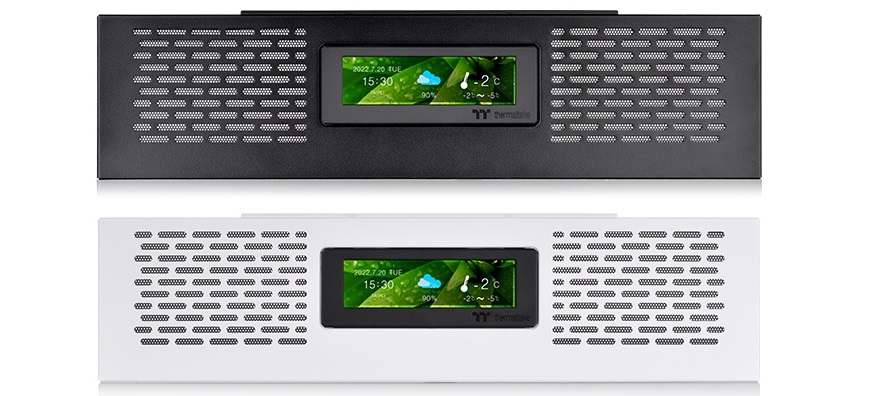 Where Can I Learn More?
If you want to learn more about The Tower 500 and the accompanying 3.9″ LCD Panel Kit, you can check out the official product website links below:
In addition, we're also currently holding a competition where we're giving away a super-high-end gaming PC featuring the Thermaltake The Tower 500 and LCD Panel Kit. – If you do, therefore, want to get your hat in the ring to win that, click on the link here!
What do you think? – Let us know in the comments!