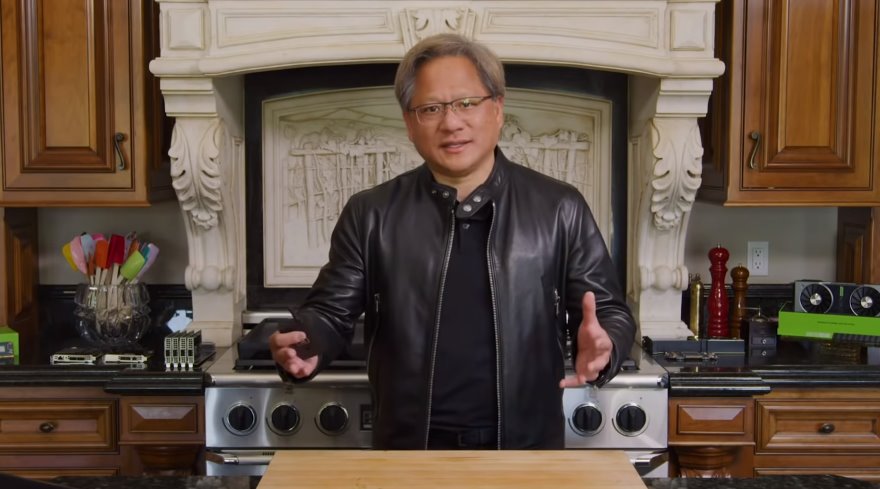 Most of us in the tech world are fairly (or at least mostly) accustomed to either seeing Nvidia CEO Jensen Huang in his rather fancy kitchen or on a presentational stage, graphics card in hand. – Well, except for Andy here who has the rather distinct honour of once bumping into him in the men's room. – It seems, however, that Jensen's most recent media appearance has been very different indeed.
Namely, on a pretty random Twitch channel.
And I know what you're thinking, and no, it's nothing to do with some small channel being honoured with his presence to discuss the latest tech or Nvidia graphics cards. He, instead, and rather randomly it has to be said, joined in on a live singing streaming session with two Taiwanese girls. – Bizarre, but true!
Nvidia CEO Jensen Huang Sings on Random Stream!
So, what exactly is going on here? Well, the short version is that I have no idea. It seems, however, that two Taiwanese girls were live streaming a singing broadcast outdoors when Nvidia CEO Jensen Huang just happened to be passing by at the time (possibly on his way home from dinner).
While it's unclear if the person recording recognised him (he was wearing his rather distinctive black leather jacket) I think it's fair to say that the two girls had absolutely no idea who he was and presumed it was just a friendly passer-by. – Recommending that they start singing some Lady Gaga, however, Jensen Huang then decided to join in a little making it, at least to my knowledge, his vocal performing debut.
Was he any good? Well, you can make your own mind up on that, but I think it would be fair to say that he probably shouldn't give up the day job just yet!
What do you think? – Let us know in the comments!