Lian Li has announced the launch of its new UNI FAN SL-INF 120 series of fans, available in black or white, singularly or as a pack of three. These new fans offer improved performance and a redesigned aesthetic with an infinity mirror and 40 addressable LEDs.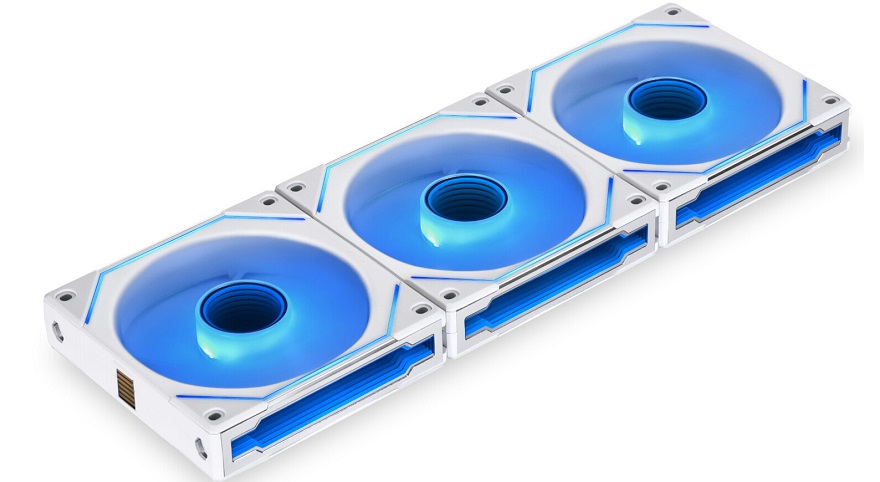 Lian Li UNI FAN SL INFINITY 120
The Lian Li UNI FAN SL-INF 120 has been designed using second-generation cooling technology which has provided a 10% performance boost compared to the SL120 model. Using a seven-blade design, each fan offers faster speeds, higher airflow, and greater static air pressure all while performing more quietly. Even at top speeds the Lian Li UNI FAN SL-INF 120 only produces 29 dBA noise, allowing high endurance with minimal noise levels. The fans provide a maximum static pressure of 2.66mmH2O and offer airflow of 61.3CFM.
Speeds can be adjusted to meet workload demands due to the fan's PWM design. Using L-connect 3 software Start/Stop mode can be selected, stopping when the CPU or Graphics card is below 50°C and achieving up to 2100RPM for more intense operation.
Features
ARGB Lighting
Featured in each Lian Li UNI FAN SL-INF 120 fan are 40 ARGB LEDs along with the frame and central hub. Combined with an infinity mirror and aluminium edging, the powerful ARGB lighting of the fans can be reflected all around to provide a stunning effect.
Improved with a Cleaner Look
The Lian Li UNI FAN SL-INF 120 has been refined with an improved cable design for easier management and a cleaner set-up. Power and light cables have been combined into a single cable with 7 pin connector which can be connected to the new UNI HUB, available with the triple packs. Single packs also include a split cable which features both a 4-pin PWM and 3-pin ARGB header allowing direct connection to the motherboard. Daisy-chaining has also been reconfigured to allow the connection key to be easily removed using a twist and pull motion and can just as easily be reinstalled when needed.
By easily being able to remove the key it allows for better compatibility with radiators and provides a sleeker setup and avoids anything projecting or obstructing. The cable module has also been repositioned to fit centrally on the edge of the fan frame and is also smaller in size compared to previous models. It can also be placed in numerous positions to meet the needs of the builder.
UNI HUB and L-Connect 3
The new and improved UNI HUB controller has been redesigned to offer greater support for other Lian Li ARGB devices, with two additional 3-pin ARGB SM ports, as well as support for up to sixteen UNI Fans across four ports. As standard the UNI FAN SL-INF 120 triple pack comes supplied with the UNI HUB controller.
Both lighting and fans can be controlled through Lian Li's L-Connect 3 software, or via motherboard software when using single fans. By using the L-Connect 3 software, it is possible to set fan speeds or specific modes for each individual port.
Lighting can also be customized in a variety of ways with 16.8 million colours and over 30 effects to choose from, as well as the ability to assign effects to the centre of the fan, the edge or both. The L-Connect 3 and UNI FAN SL-INF 120 combined offer great flexibility when it comes to both performance and appearance and allows the fans to be customised to meet the needs of the user.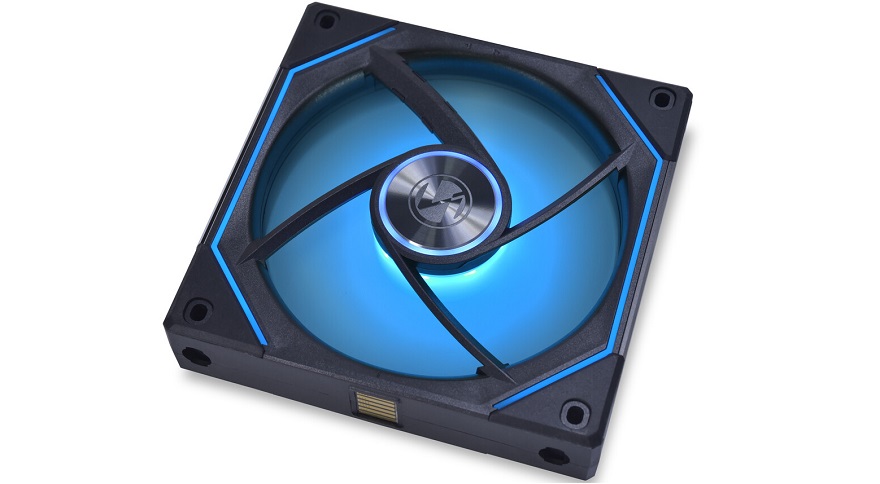 Specifications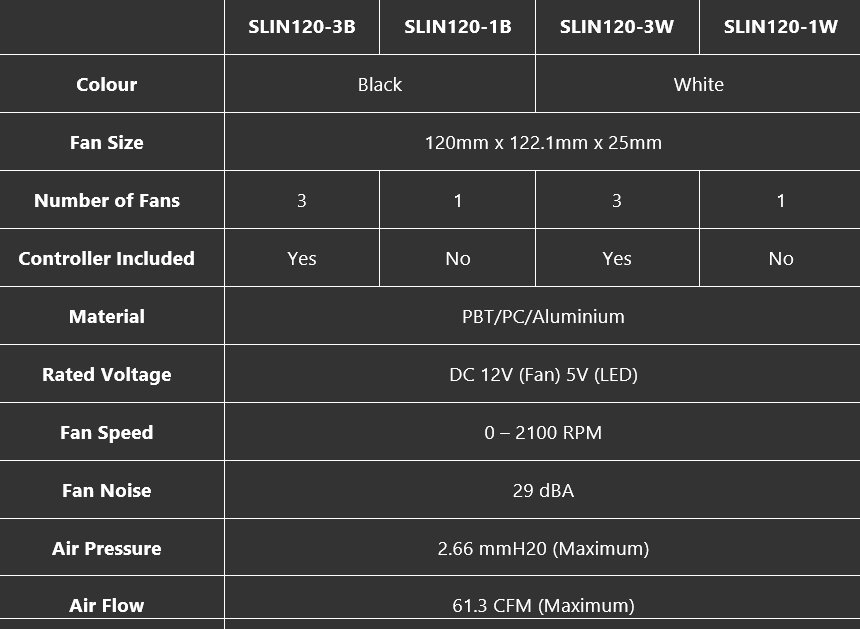 Price & Availability
Lian Li has confirmed that both the black and white UNI FAN SL INFINITY 120 cooling fans (individually or as kits) are available for order now with consumers looking at an expected retail price of $99.99 for 3 fans with a controller bundle pack, and $29.99 for the single fan pack (controller not included).
If you do, therefore, want to learn more about the Lian Li UNI FAN SL INFINITY 120, you can check out the official product website via the link here!
What do you think? – Let us know in the comments!