Using geolocation spoofing apps, you will be able to easily fake your geolocation and access geo-restricted content.
Games, applications, and even movies and TV shows all have location-based restrictions. On an Android phone, you can simply change your location with various third-party apps, but this isn't possible on an iPhone or an iPad.
To Spoof iPhone Location, some users think about jailbreaking their devices but this operation has a lot of disadvantages and limitations. It's only available on iOS 14-14.3 and on iPhone 5s to iPhone X models. In addition, it makes your device out of warranty and exposes it to security risks.
But what if we told you that you can spoof iPhone location without jailbreaking your device? You may easily accomplish this with the help of the iToolab AnyGo app.
It's one of the most popular Geo spoofing apps for iOS. iToolab AnyGo has been updated to support iOS 16 by iToolab. If you have already upgraded your iPhone to the most recent version or you're going to purchase an iPhone 14 model.
iToolab AnyGo: The best Pokémon Go Spoofer for iPhone
With the help of the location-spoofing iToolab AnyGo app, your iPhone or iPad can pretend to be in a different area. You can use it to modify the iPhone or iPad's GPS position on computers running Windows 10/8.1/8/7 and macOS 10.10 or later. You can change GPS location of iPhone/iPad to anywhere with 1 click without jailbreaking your iPhone.
The app fully supports the latest iOS 16 and iPhone 14 and works well with location-based AR games and social apps such as Pokémon GO,Tinder, Bumble, life360, etc. People can easily spoof their location without walking or going out.
With the help of this advanced geo-spoofing app, users can pretend to move in order to access geo-restricted content and play games like Pokémon Go for continuous gaming sessions. Players can realistically travel on the map and change their iPhone's GPS location using iToolab AnyGo in order to catch more Pokémon and gain more experience points in the game. The best feature of AnyGo is that it allows users to change their location to any place in the world, so you can even gather some of the rarest Pokémon.
AnyGo's GPS simulation is one of its other standout features. Users are free to choose a fictitious route on the map and simulate their movement along it. To avoid being captured, you can even change the movement pace.
Also, using the app you can import GPX route file to simulate a fake GPS route. You can custom walk speed looks natural, You can use a joystick to have a better GPS control. In addition, it supports multi-device management, thus you can change multiple iPhone devices locations simultaneously.
How Does iToolab AnyGo Work?
We'll provide you with a few real-world examples of how AnyGo operates so you can see how it functions.
Teleport to any location in the world
Step 1: Connect the iPhone to the computer and then click on "Start" in the program's main window.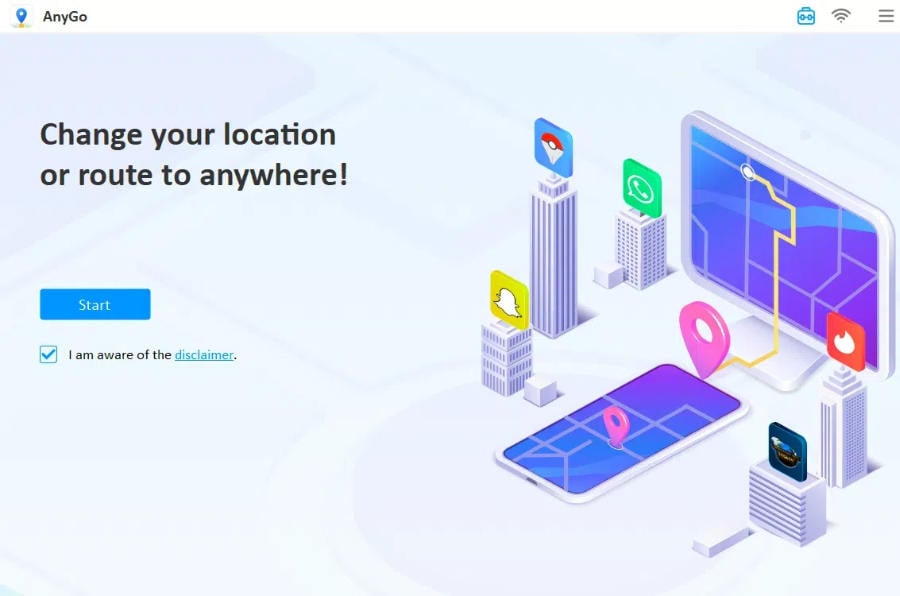 Step 2: You should see your current location on the map that appears on the next page. If the location shown is inaccurate, click on the "Center On" icon to get the correct location.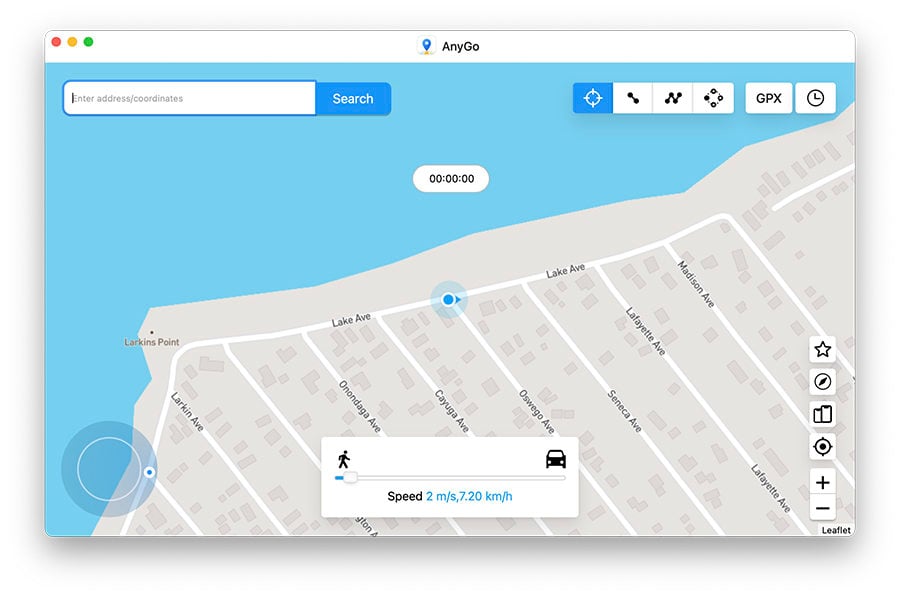 Step 3: Click on the "Teleport" icon in the upper-right corner of the screen and then enter the location you'd like to teleport to. Click "Search".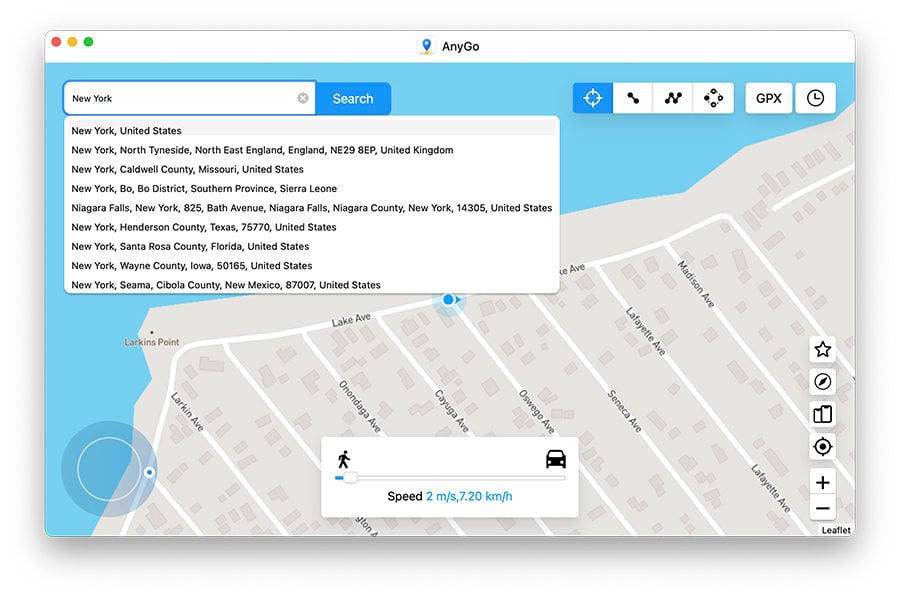 Step 4: The system will record the new desired location. Click "Go" to teleport.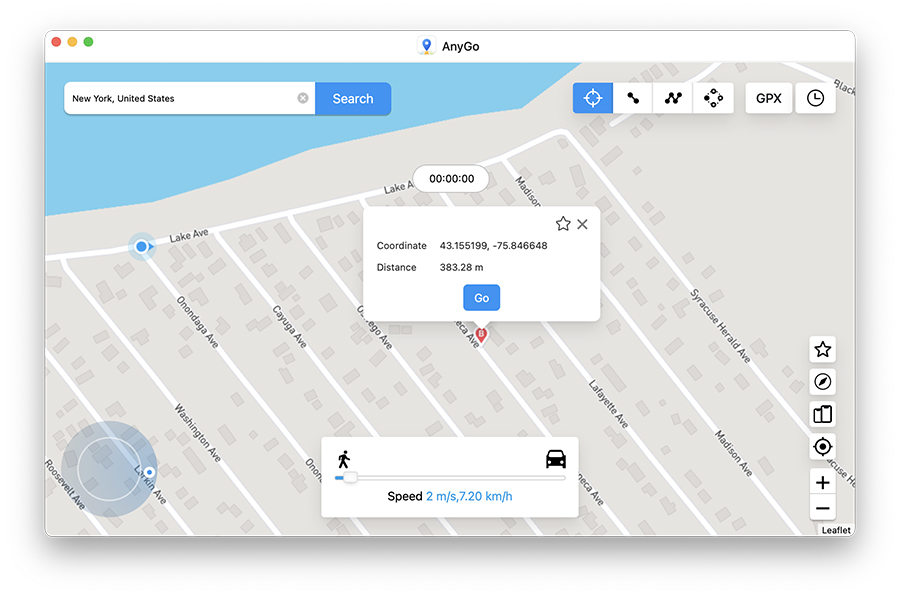 Simulate movement along a specified route
You can also use AnyGo to simulate GPS movement between two pre-determined locations:
Step 1: Click on "Two-spot route" in the upper right corner. Select the place you would like to go to on the map. A popup will appear telling you how far it is.
Drag the slider at the bottom to set the speed you would like to use. You can choose the "Realistic Mode" for a different speed to looks real. Besides, you can choose walking, cycling, or driving speed. Click "Go".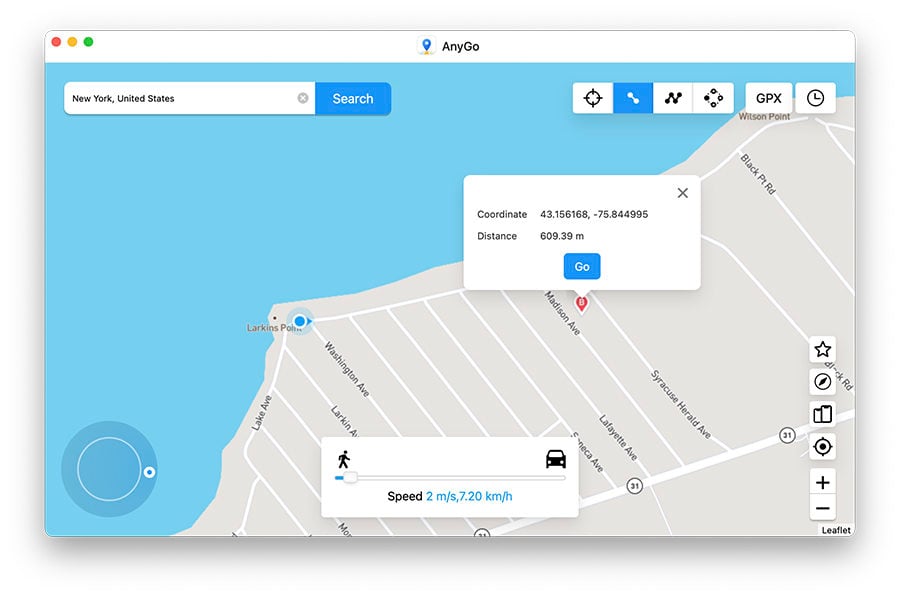 Step 2: In the popup box that appears, select how many times you would like to move between the two locations and then click "Go" to begin the simulated movement.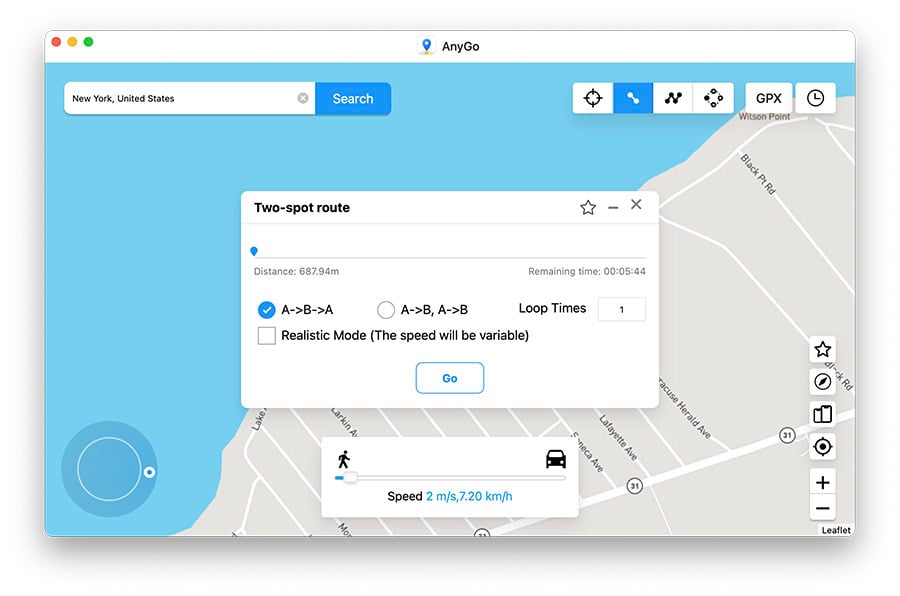 Multiple mode
If you would like to pass through many places on the map, choose the multi-stop route.
Step 1: Select the multi-stop route in the upper right corner of the screen. Then select all the locations you want to pass through.
Note: Make sure that the locations you set are along a specific route to avoid the movement appearing unnatural.
A popup will appear showing how far you will travel. Select the moving speed and then click "Go".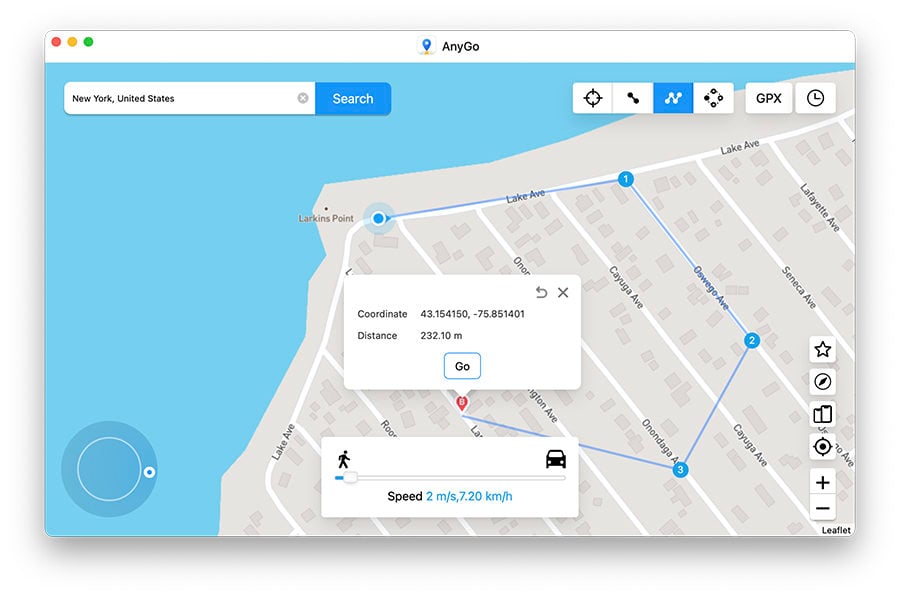 Step 2: Specify how many times you want to move along the selected path and locations and then click "Go" to start the simulated movement.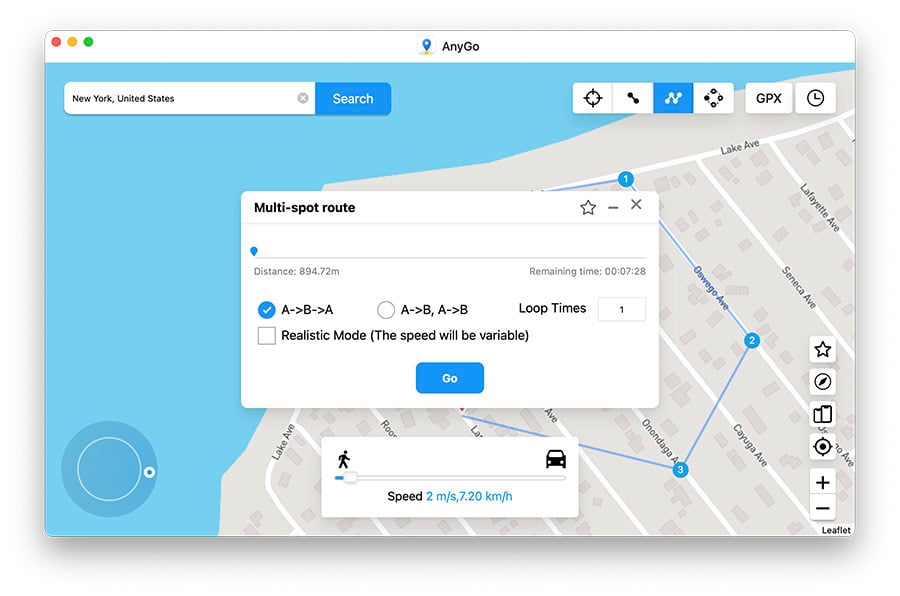 The GPS on your device will now be moving along the specified path, passing through all the selected points at the specified speed. If you want an authentic experience, you can choose the "Realistic Mode" for a natural speed.
Gizchina News of the week
Import GPX routes file to auto walk
By importing GPX, we may quickly and easily use featured routes and share GPX location data with others.
Step 1. Click the GPX icon in the upper right corner of AnyGo.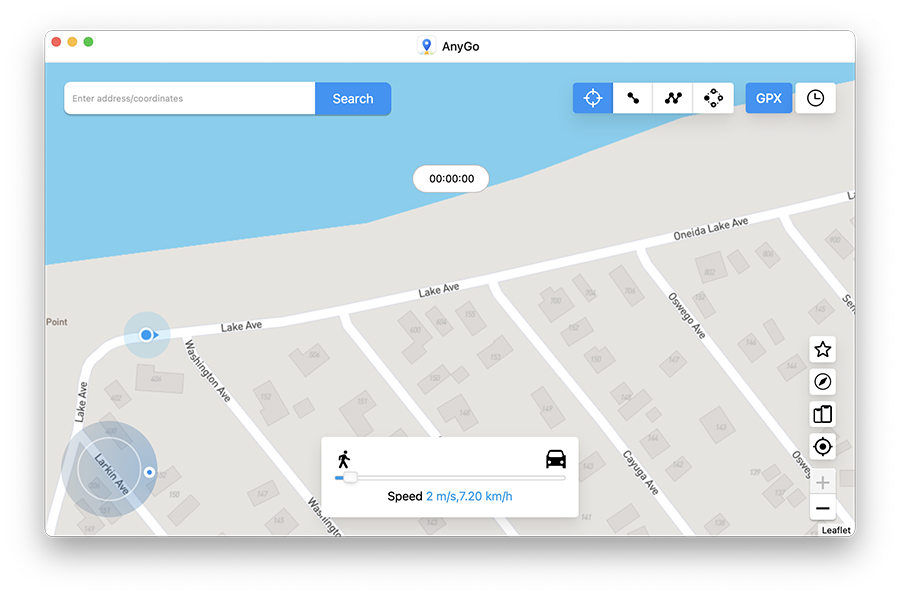 Step 2. Choose the GPX file you want to use and import it to AnyGo.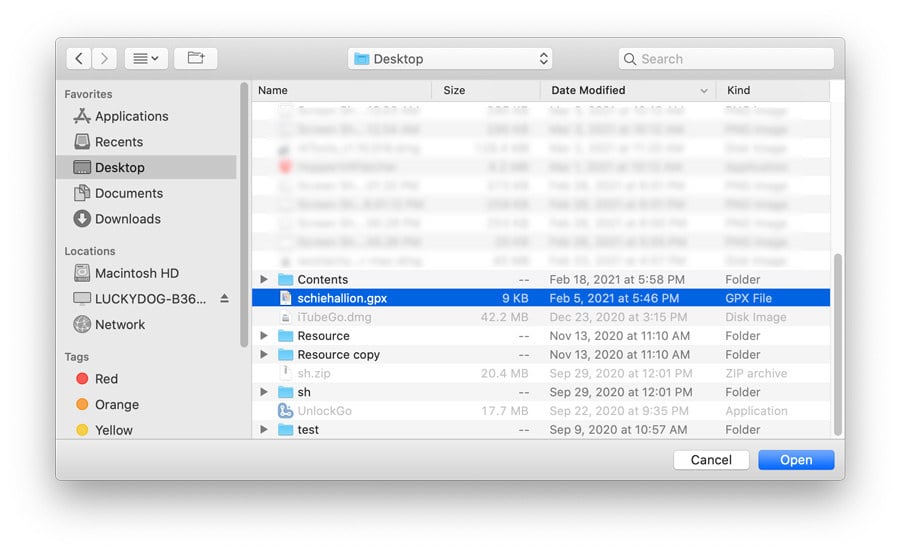 Step 3. After importing, choose how many times you want to repeat the route and click the "Go" button to start to follow the route in the GPX file on AnyGo easily.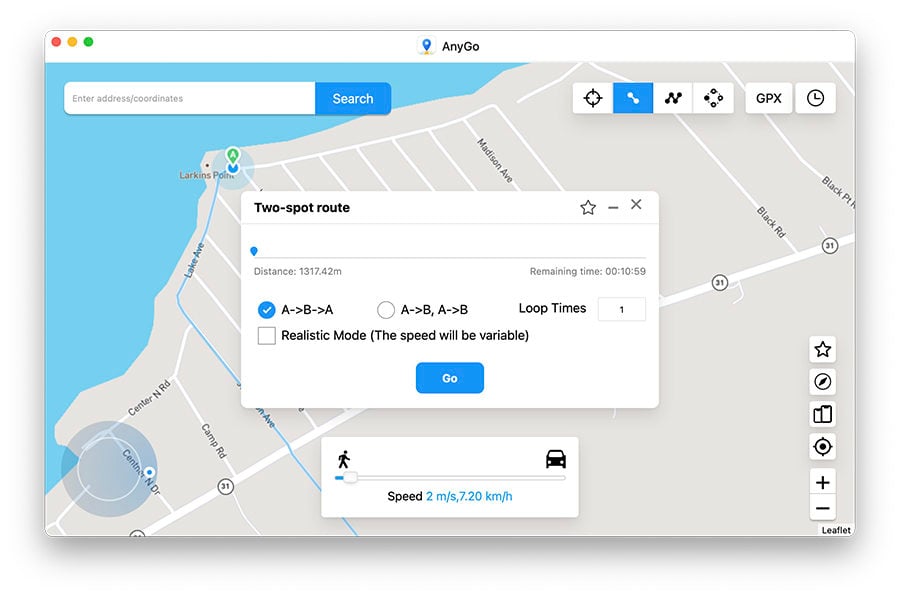 Special Features of iToolab AnyGo
1. Favorite location and route
When you set a location on the map, click the "Star" icon in the upper right corner of the pop window to bookmark this location for future use.
If you create a route, click "Go" and then click the "Star" icon on the pop-up window, you can collect this walking route. The program will prompt you to name the route so that you can find it easily next time.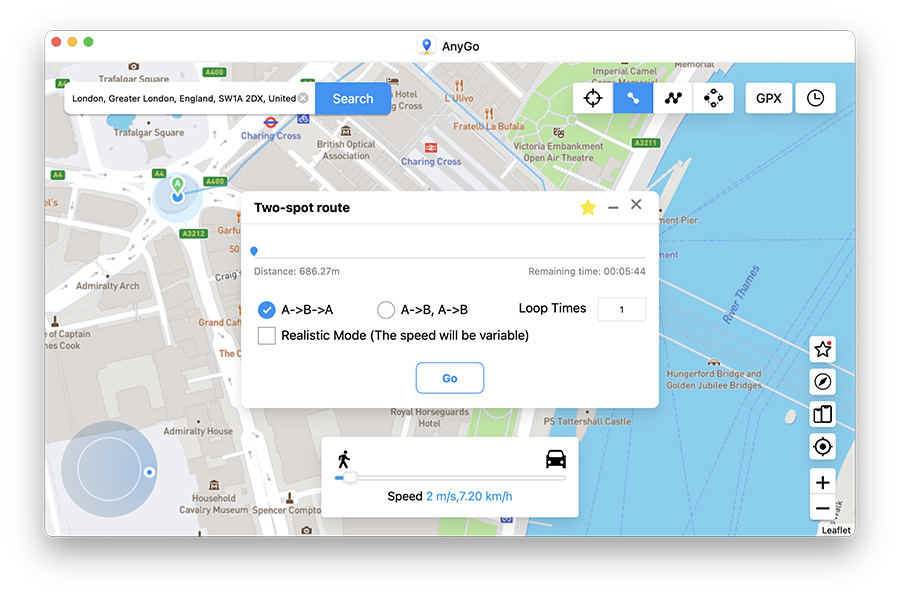 All favorite locations and routes will be saved in favorites. You can press the Star icon on the right side of the main interface to show the Favorites box.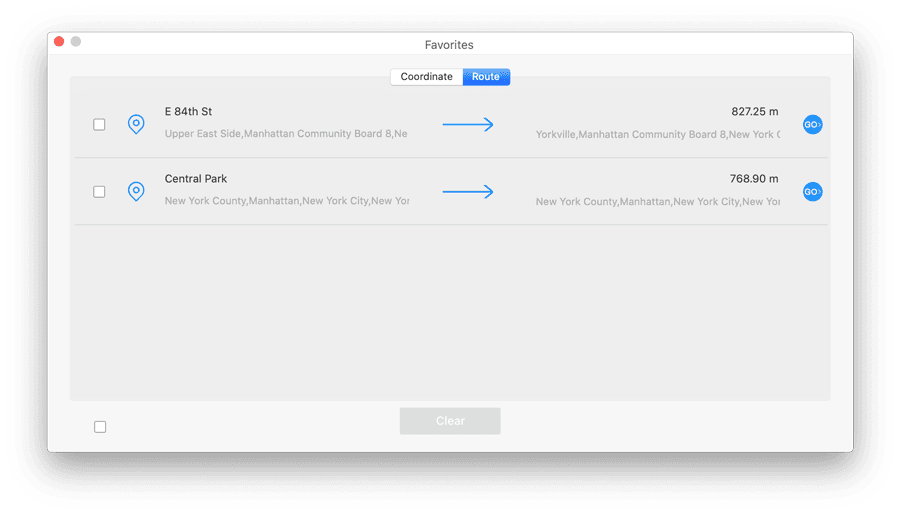 2. Historical records
The "Historical Records" saves the location you use and the route you walk every time. The program will automatically record all this for you. When you want to use it next time, you can find the " Historical Records" on the right side of the AnyGo main interface, and then you can reach the previous position or start your walking with one click. Of course, you can also add it to the collection.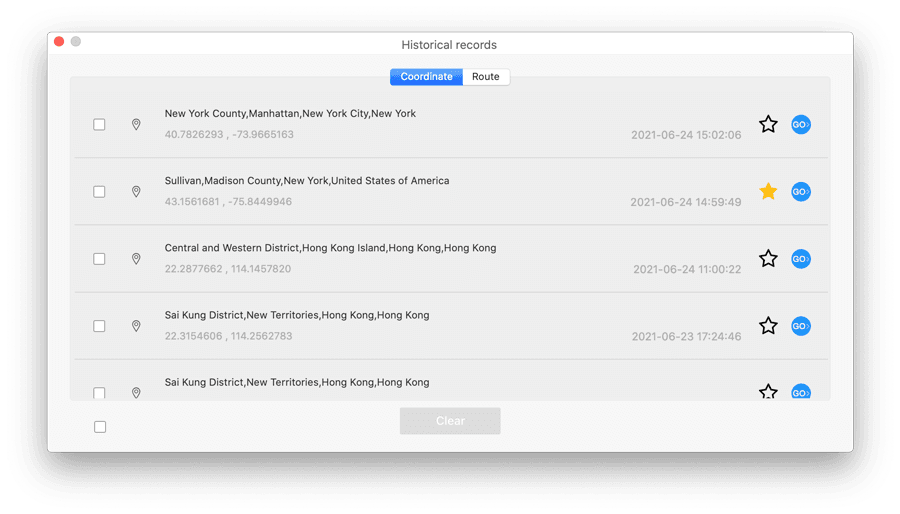 3. Automatic closing the path
In the multi-spot mode, when the start and end positions are less than 50 meters, the program will automatically ask you if you want to close the path. Click "Yes", it will close the route and overlap the start and end points to form a loop. Click "No", the end point remains the same.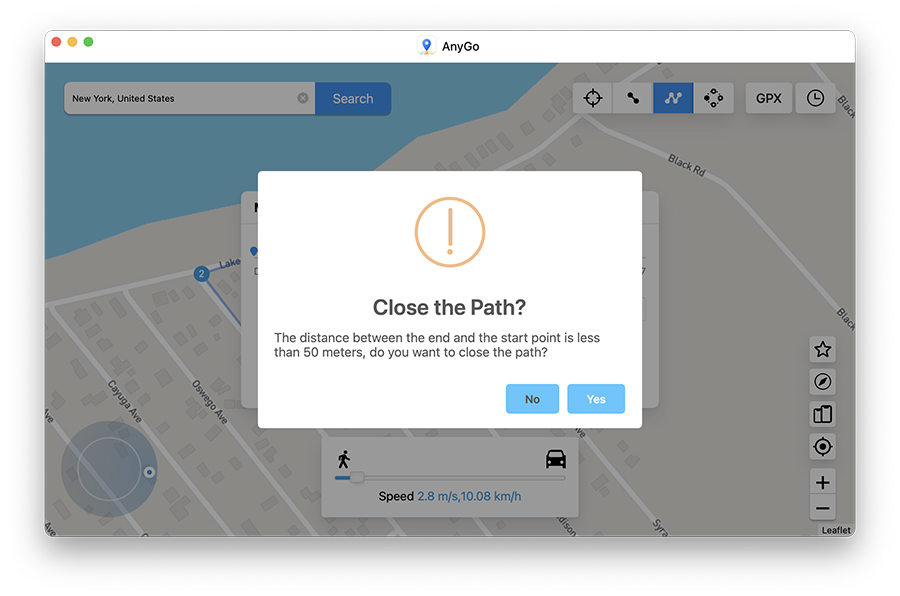 4. Returns or Loops
To make the simulated walking more natural, you can set the route to loop (A—>B, A->B) or return to the original road (A->B->A) and the number of repetitions of the route.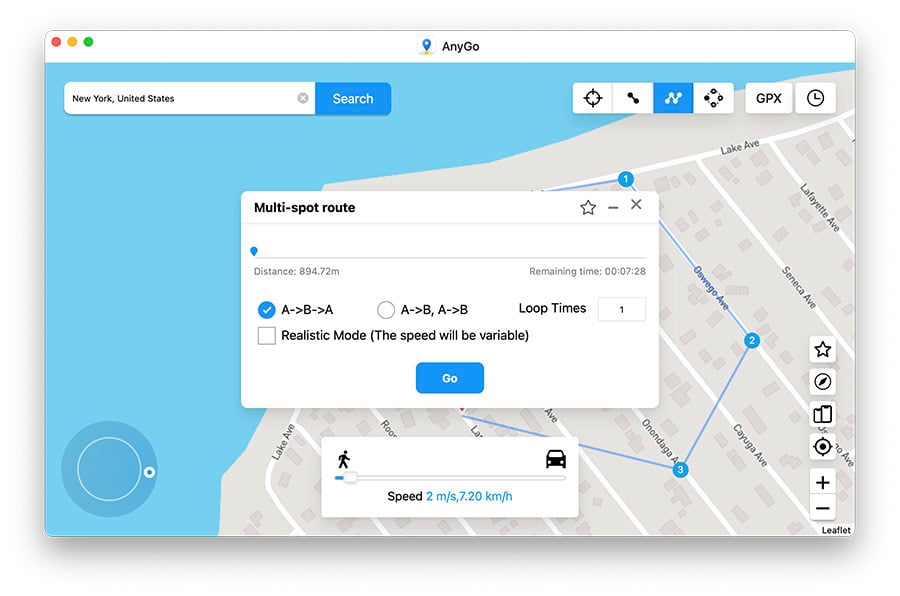 5. Wi-Fi wireless connection
iToolab AnyGo supports wireless connection now. Users can connect the device to the computer through Wi-Fi. You can ditch the USB data cable and connect multiple phones easily.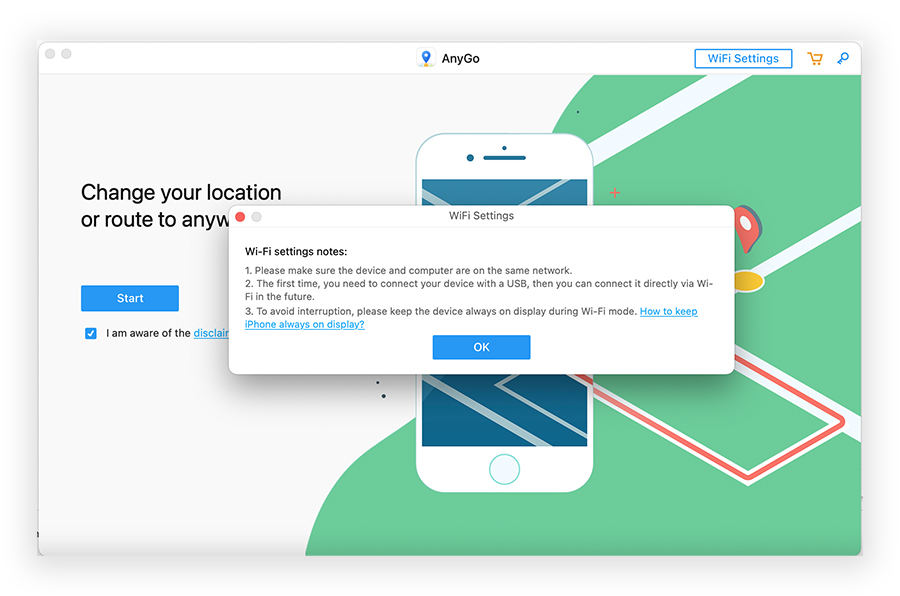 How to connect:
Turn on the Wi-Fi on your iPhone and connect to your wireless network.
Connect the computer to the same Wi-Fi network.
Launch AnyGo and click Start. Wait a few seconds, the program will automatically detect all iOS devices connected to Wi-Fi.
Choose the device you want to connect.
Useful tips to avoid bans while using GPS spoofer
Here are some tips on how to avoid Pokémon Go ban when using AnyGo:
Please change the location with Anygo first, make sure your location has been modified successfully, and then open the Pokémon game to avoid the game detecting that the location has changed in a short time.
Do not jump long distances while playing Pokémon
AnyGo provides Coldown Time reminder to help you avoid the risk of being banned.
Anygo can customize the walking speed, from 3.6km/h to 100km/h, you can set a real and natural speed. And AnyGo can simulate real walking, choose Realistic Mode option, so that your walking speed is not a fixed constant speed but a natural variable speed.
iToolab AnyGo Pricing
You should try out AnyGo from iToolab now that you are aware of its features. It is accessible on computers running Windows and macOS and offers a variety of subscription options.
The 1-month monthly subscription, for instance, costs $9.95. The lifetime package costs $59.95, while the three-month quarterly plan is $19.95, which is perfect if you frequently change your location.
AnyGo offers a 30-day money-back guarantee, in case you were curious. Additionally, you receive free customer service and updates for life.
Best of all, during holiday sales, you can enjoy up to 70% off using this link.
Verdict
As we indicated before, AnyGo from iToolab includes a number of features. Additionally, jailbreaking your iPhone or iPad, which loses you your warranty, is not even necessary. Therefore, using it is completely easy and safe.
Using this solution, you can access content that is geographically banned from your location. We highly recommend you try AnyGo and test its wonderful features. Additionally, if you are a Pokémon Go player, it's the best location spoofer for you.