While EVGA's overclocker K|NGP|N was announcing yesterday the RTX 3090 Ti K|NGP|N edition equipped with an hybrid air cooling and Asetek water cooling solution, a full copper radiator and extremely high end PCB component; EVGA was posting news about their new highest end PC case, the EVGA E1.
The frame entirely made out of 3K Plain weave carbon fiber, one of the most robust and light materials to exist, it is also bound to be stupidly expensive, and that's arguably the most beautiful part of it. You can count 1600$ for the sole case. EVGA is also offering a kit version with a 1600W EVGA T2 Titanium power supply and a GeForce RTX 3090 Ti K|NGP|N edition for 3700$. Add an EVGA Z690 DARK K|NGP|N, a PowerLink braid PSU cable extension and a premium shipping case for a total of 5000$. This is simply madness, but it comes with three analog gauges to keep an eye on your speedometer. It also brings an exclusive E1 software to complete EVGA's suite and monitor your Battle Station in detail. The case rocks a patent pending suspension design to support the heaviest of PCs in ease and smoothen any vibrations from the machine running or from transport conditions, to ensure longer lasting components.
The patent pending suspension design is constituted of steel cables attached to hydraulic independent suspension dampers, on which the entire computer is mounted on, to connect to the frame.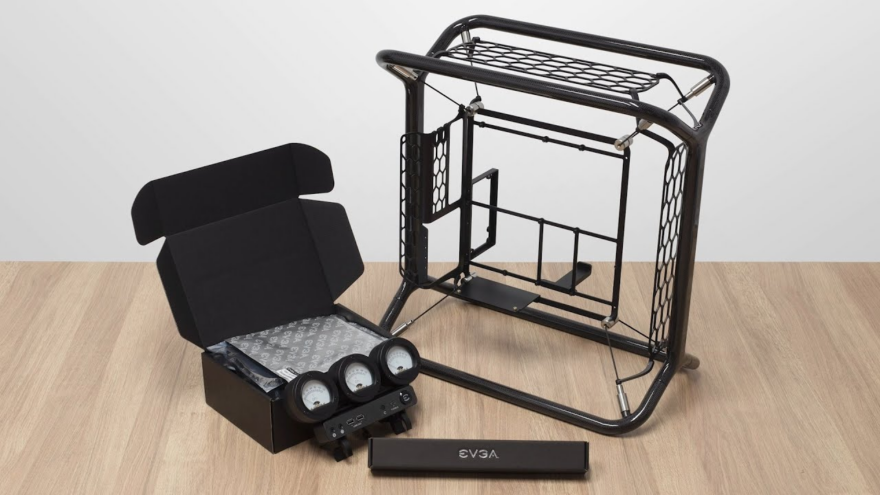 The Open Bench case is made of the actual Carbon Fiber weave frame, in an organic shape that is reminiscent of the biomorphism artistic current with the shape of the Y and the beehive-like hexagonal shape of the back and front grills. Nature is really well made and optimises strength extraordinary well into very elegant and alluring designs. Carbon fiber has a very distinct and caracteristic black and textured color which adds to the luxe and appealing design of this extremely high-end product.
Carbon fiber as a material is constituted of extremely thin graphite tubes, about 5 to 10 µm (0.00020–0.00039 in) in diameter. Carbon fibers have several advantages: high stiffness, high tensile strength, high strength to weight ratio, high chemical resistance, high-temperature tolerance, and low thermal expansion. These properties have made carbon fiber very popular in aerospace, civil engineering, military, motorsports, and other competition sports. However, they are relatively expensive compared to similar fibers, such as glass fiber, basalt fiber, or plastic fibers. It is also extremely highly conductive, both with electricity and heat, but only along the right direction. Perpendicular to the surface, it acts in the opposite way, as an excellent insulator.
While the heat conductivity is not an issue here, the electricity conductivity proves to be a huge issue in the case of a computer, and this is part of the reason of the suspension, which serves to insulate the PC. This is not too different from a steel PC case which is also conductive (with a much higher resistance though), but the way of insulating it is different.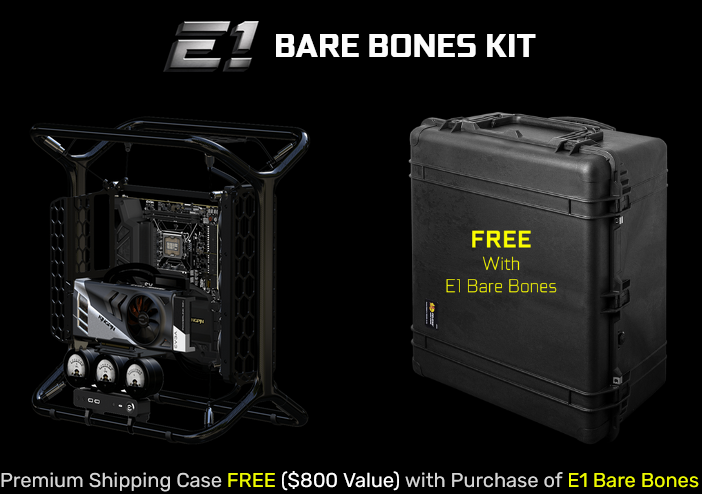 The Full Tower case weights a total of 1.25kg (2.76lbs) making it the lightest PC case frame of this volume category ever made, and by far. Adding the gauges and the "front panel" connectivity make it reach 4.4 kg. In comparison, similar open bench cases usually rock 10 to 20 kg depending on the materials, steel and/or aluminium. More "normal" Full Tower cases that include side panels can go up to 25 – 30 kg empty, rendering them extremely heavy and large beasts.
It supports motherboards of any size, ranging from mini-ITX all the way up to the large E-ATX form factor. Speaking of dimensions, it measures 590 mm (23.2 in) in length, 610 mm (24.0 in) in height, and 320 mm (12.6 in) for a total of 115.2 L (25.3 UK gal / 4.07 cubic feet).