During the great graphics card shortage of 2020-2022, we've seen many manufacturers and retailers come up with usual and sometimes unique systems in order to attempt to help bring the incredibly limited stock (fairly) into consumers' hands. Some methods have gone down the 'lottery' road, others have chosen a queue system (each coming with its own successes and failures).
With the GPU situation finally looking to be getting back to normal, however, it seems that many are now scrapping such methods in favour of a return to a more standard 'if it's in stock, we'll list it for you to buy there and then' policy.
Are things actually on the verge of getting back to normal though? Well, following a report via Videocardz, and representing a pretty huge indication of that possibility, EVGA has confirmed that its queue system for its Nvidia 30XX graphics cards has now officially been suspended!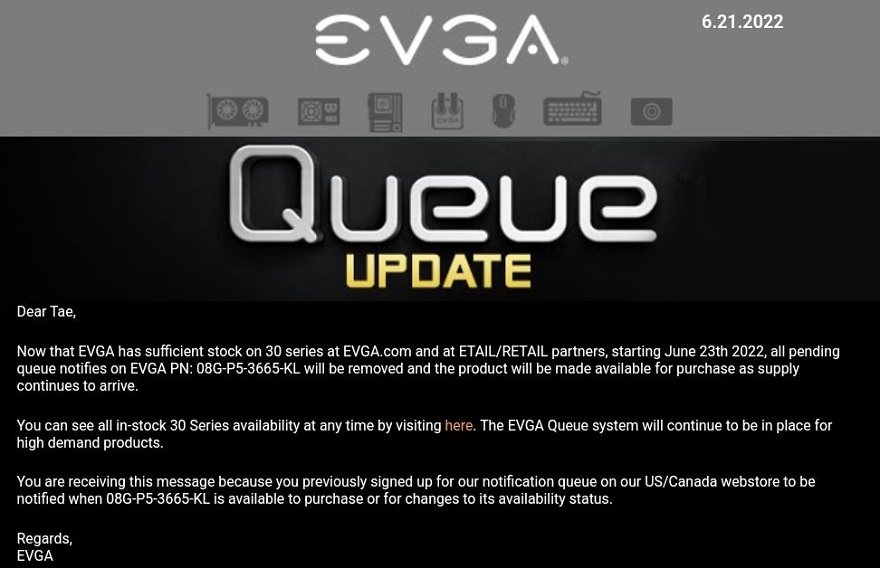 EVGA Suspends Graphics Card Queue System!
Following a notification that is reportedly heading out to people still within the queue system, EVGA has confirmed that as of today (June 23rd), consumers will no longer be given the option to put their name down for priority notifications on future stock drops. – If graphics cards are available, EVGA will just simply list them to purchase based on the stock they have!
And if this wasn't enough, EVGA has also even suspended its limit of one graphics card per household. You can actually buy (well, order) two of them now!
Now admittedly, prices and availability for more upper-mid-tier graphics cards (such as the 3070/3080 etc.) are still a little problematic. This news does at least finally seem to add to the mountain of evidence that The Great GPU Shortage of 2020-2022 might finally be coming to an end!
Well, EVGA seems to think so at least!
What do you think? – Let us know in the comments!