In late 2021, after months and months of rumour and speculation, ASUS and Noctua formally confirmed the launch of their collaborative Nvidia 3070 graphics card, and then subsequently a 3080 model. Featuring ASUS's graphics card design and Noctua's amazing cooling potential, these were some absolutely fantastic and truly unique designs even if, admittedly, the beige and brown aesthetic of Noctua did, once again, manage to divide the PC hardware community.
I make no secret of the fact though that I absolutely loved the look of these GPUs and hoped that they would consider joining forces again in the future.
Well, if you too harboured such hopes, then we have some potentially exciting news as following a report via WCCFTech, leak sources are claiming that not only is a new ASUS/Noctua Nvidia 40XX graphics card in the works, but it might be officially announced at CES 2023!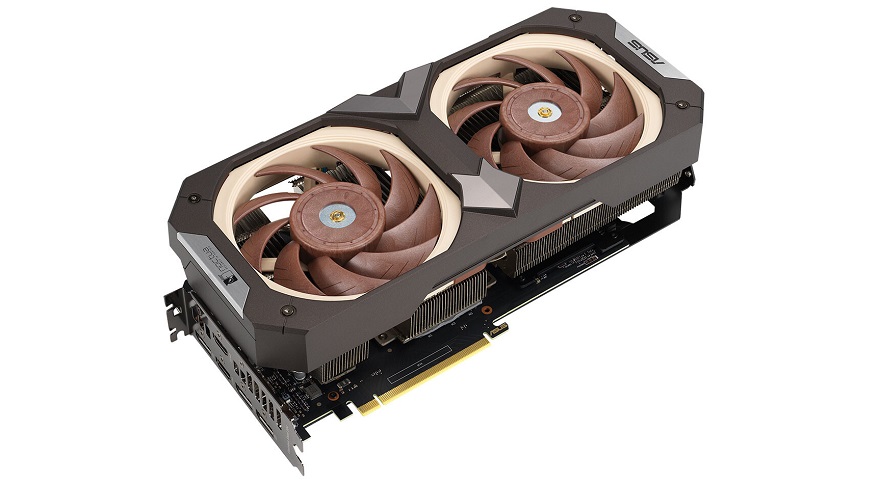 ASUS/Noctua Are Partnering Again?!
In terms of details, very little has been revealed beyond the fact that both ASUS and Noctua have partnered again for a new Nvidia 40XX-based GPU model. With this in mind though, we have absolutely no idea which one it will be. A 4090 or 4080 does, of course, seem like the most likely proposition, but with Nvidia expected to also confirm the launch of the 4070 Ti at the event (the GPU formerly known as the 4080 12GB), this could possibly be the one that ASUS/Noctua start with.
It wouldn't be that surprising considering that the first model they launched together was, somewhat surprisingly, a 3070 rather than a 'beefier' alternative which didn't come until a good 6 months later.
Whatever we get though, rest assured that the whole question of beige and brown will come to the forefront again. Yes, Noctua loves its chromax.black, but they're never going to abandon their aesthetic roots and particularly in a product which makes their involvement so instantly recognisable.
What do you think? – Let us know in the comments!