Notice
: Undefined offset: -1 in
/var/www/vhosts/default/wp-content/plugins/multi-page-toolkit/TA_multi_toolkit.php
on line
151
Notice: Undefined variable: allpage_link in /var/www/vhosts/default/wp-content/plugins/multi-page-toolkit/TA_multi_toolkit.php on line 220
Notice: Undefined variable: allpage_link in /var/www/vhosts/default/wp-content/plugins/multi-page-toolkit/TA_multi_toolkit.php on line 285
Notice: Undefined offset: -1 in /var/www/vhosts/default/wp-content/plugins/multi-page-toolkit/TA_multi_toolkit.php on line 151
Notice: Undefined variable: allpage_link in /var/www/vhosts/default/wp-content/plugins/multi-page-toolkit/TA_multi_toolkit.php on line 233
Notice: Undefined variable: allpage_link in /var/www/vhosts/default/wp-content/plugins/multi-page-toolkit/TA_multi_toolkit.php on line 241
Notice: Undefined variable: more in /var/www/vhosts/default/wp-content/plugins/multi-page-toolkit/TA_multi_toolkit.php on line 233
Notice: Undefined variable: more in /var/www/vhosts/default/wp-content/plugins/multi-page-toolkit/TA_multi_toolkit.php on line 233
Notice: Undefined variable: more in /var/www/vhosts/default/wp-content/plugins/multi-page-toolkit/TA_multi_toolkit.php on line 233
Notice: Undefined variable: more in /var/www/vhosts/default/wp-content/plugins/multi-page-toolkit/TA_multi_toolkit.php on line 233
Notice: Undefined variable: allpage_link in /var/www/vhosts/default/wp-content/plugins/multi-page-toolkit/TA_multi_toolkit.php on line 244
Notice: Undefined variable: allpage_link in /var/www/vhosts/default/wp-content/plugins/multi-page-toolkit/TA_multi_toolkit.php on line 285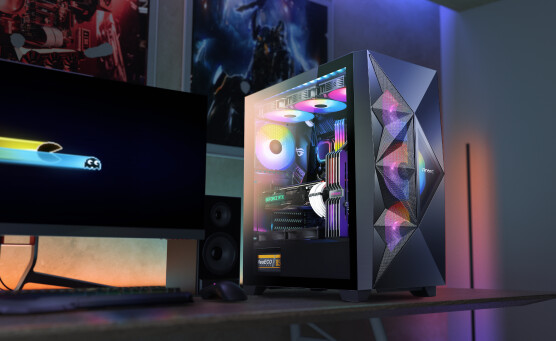 Antec is one of the most well-known PC brands out there, with a history longer than I can remember! I know my first properly custom PC build I did was in an Antec case, back in the days when cathode tubes were still the coolest thing ever; simpler times. Alas, Antec is still going strong, with one of the broadest PC case ranges on the market today, and plenty more products besides that too. Their latest is the DF800 FLUX Dark League, a mid-tower gaming case that promises to deliver the style and cooling performance for the next generation of PC hardware.
What is F-LUX?
"When Intel and AMD announced their latest CPUs, they all deliver remarkable performance upgrades and better productivity, it also means the functional requirement of PC equipment needs to be taken to the next level, especially the thermal performance. To cope with the stress of enhanced heat dissipation, Antec developed a revolutionary structure for airflow, providing an improved and powerful cooling solution for your system. The F-LUX Platform." – Antec
Antec DF800 Flux
The new patented F-LUX Platform is what Antec call "flow luxury" and it features additional side ventilation, as well as a reverse fan on the case interior to pull air through the case. There are five 120mm fans included in the case, so I'm pretty confident airflow is going to be fairly robust here. With the next-gen of GPUs alone possibly hitting around 800w TDP, airflow is extremely important, not that it wasn't already, of course.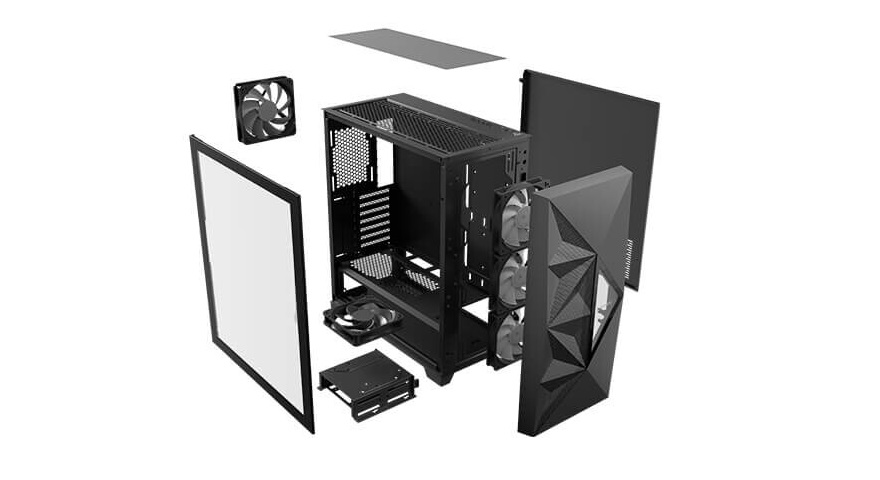 Features
Mid-Tower Formfactor
ATX Motherboard Support
5 x 120mm fans Included (3 x RGB, 1 x Reverse Fan, 1 x non-RGB)
Built-in LED and Fan Control Hub
F-Lux Cooling Design
4mm Tempered Glass Window
Built-in PSU Shroud
3 x HDD/SDD Mounts
3 x SSD Mounts
Supports up to 9 Fans

Supports 2 x120/140mm Fans/Radiator in Top
Supports 3 x 120/140mm Fans/Radiator in Front
Supports 1 x 120mm Fan/Radiator in rear
Supports 2 x 120mm Fans on PSU Shroud

Removable Dust filters on top, side and PSU mounts
Dust Plugs on Front Panel I/O
For in-depth features and specifications, please visit the official Antec DF800 Flux Dark League product page here.