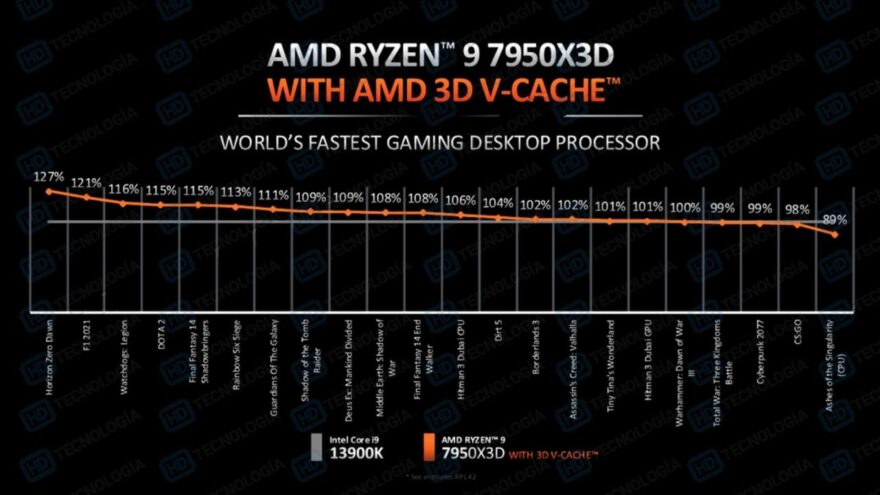 Leaked 7950X3D Benchmarks
The other day we saw leaked benchmarks for the Ryzen 9 7950X3D in Blender and Geekbench, but now the all-important gaming benchmarks have been leaked for the 3D V-cache CPU. Website Hd-tecnologia leaked the benchmarks that were a part of the reviewer's guide for the Ryzen 9 7950X3D where AMD pit the Ryzen 9 7950X3D against Intels top i9 13900k CPU and tested with both the NVIDIA RTX 4090 and AMD 7900XTX GPU as well as DDR5 clocked at 6000Mhz on 1080p gaming.
Performance Gains
Now how much of a gain does the Ryzen 7950 X3D gain over the 13900k, well when paired with a 7900 XTX the 7950X gained a 5.6% average performance increase shown in the spreadsheet sourced from HD-Tecnologia. In almost every game there were gains for the 7950X3D and with F1 2021 and Horizon Zero Dawn as high as 20% in performance gains.
The next benchmark involved using the Nvidia RTX 4090 and again at 1080p it was found that the 7950X gained a slightly higher average framerate at 6% in gains. In this spreadsheet, there is also testing shown for the 7950x where the X3D variant managed to gain a whopping 16% against its non-X3D counterpart.
Benchmarks With RTX 3090 Leaked
These Benchmarks weren't the only ones leaked as Twitter user chi11eddog has leaked some testing of the 7950X3D and 13900k with an RTX 3090 showing cine-bench scores and gaming testing. In the testing again we can see that the 7950X3D comes out with a cinebench score of 37973 and in the gaming benchmarks at 1080 pulls ahead of the 13900k. Unfortunately, the leaker didn't provide any other specs beyond 3090.
Worth it Over The 13900k?
So clearly the 7950X3D is better than the 13900k for 1080p gaming, though there is still the question of higher resolutions as well as the 13900KS, which hasn't been tested by AMD and tells me it likely hasn't dethroned the KS from the top. The 7950X3D is set to retail at $699 whilst the i9 13900k is retailing at $569 which is a hefty price difference for only 6% gains in performance.
Will you be interested in the Ryzen 7 X3D series? Let us know your thoughts in the comments.